In order to achieve the commitment to increase PAP1' s income above the National Poverty Line within 2 years, and attain 150% of baseline income within 10 years, a range of economic activities has been developed through:
Allocation of the 450 m2 home plot for self-sufficiency economy
Allocation of the 2-hectare farmland for rubber plantation and intercropping
Allotment of common grazing lands for cattle
Provision of a secured work as a Project Employee for at least one person per household
Each home plot, measuring 450 square meters, has been promoted to involve both on-farm and off-farm activities as a short-term income source. The concept features:
Common area (at the ground level of the house) to be used for handicraft working area, shop, etc.
Green area & Garden area (in front of or at the side of house) to be used for shrub planting or as kitchen herb garden, catfish pond, mushroom culture shelter, plant nursery, etc.
Livestock area (backyard) focusing on issues of cleanliness, odour and noise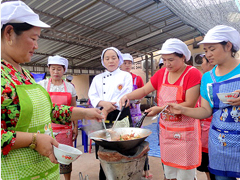 Home plot-based activities occupied by PAP1 include:
On-farm activities: vegetable gardening, pig fattening, chicken raising,fish farming, and mushroom growing
Off-farm activities: cotton spinning; the production of floating lanterns, brooms, and bricks; the operation ofsmall businesses within the resettled village e.g. repair shops, beauty salons, groceries, and food shops
Farmland Development
The approximately 1,200-hectare area, previously occupied by PAP3/Host Community' slash-and-burn farmers – located 18 kilometers to the East of Hongsa town in a relative valley and rough hill at 700-900 meters MSL between two routes: Hongsa-Xayaboury and Hongsa-Luang Pabang – was developed as farmland for both PAP1 (900 ha) and PAP3 (300 ha). The key development includes the construction of new road access and pipeline irrigation system. In 2012, an approximately 202-hectare area of the farmland was prepared by PAP1 for para-rubber plantation and intercropping. Despite the difficulties of such preparation caused by new house extension and uneven land, there are efforts to promote para-rubber plantation in the remaining area, in order to accomplish the committed target of 150% of the baseline income in the 7th year of plantation.
Development of Livestock Area
Three sites are to be improved as common livestock area:
Zone Phou Fah-Ban Thaen Khaen (approximately 500 hectares, close to the resettlement site)
Zone Kiew Ngeow-Phou Mak Jon (approximately 800 hectares, 20 kilometers from the resettlement site on the road of Na Poung-Chompet)
Zone Phou Leng-Ban Nong Luang: (approximately 500 hectares, 20 kilometers from the resettlement site on the road to Xayaboury or ADB road).
Establishment of Na Poung Learning Center
As part of the Income Restoration Program, the model demonstration highland farm was proposed, consisting of three strategic areas: 1) highland agricultural demonstration, 2) agro-forestry zone, and 3) ecological and agricultural tourist attraction site. Due to its location as a buffer zone for watershed area protection, a 30-hectare area located at the edge of the farmland along the Hongsa/Na Poung-Luang Prabang route was chosen to be developed as the learning centre, which encompasses a number of diverse demonstration plots for highland cropping, accommodation, learning facilities, and etc. Whether or not objectives of the Center should be at the national level is a challenge, as this would require the involvement of external resources; thus, a further discussion is needed.